Non-slam, lift type, non-return Check Valve that opens to allow flow in the required direction, and closes fast and drip tight to prevent any back flow.
BERMAD 700 series valves are hydraulic, oblique pattern, globe valves with double chamber unitized actuator, that can be disassembled from the body as a separate integral unit. The valves hydrodynamic body is designed for unobstructed flow path and provides excellent and highly effective modulation capacity for high differential pressure applications.
High Quality Construction Materials – Reliable, resilient and long lasting operation
Robust Design – Suitable for constant, intense operation
In-Line Serviceable – Quick and easy maintenance and service
Full bore valve port area and hydrodynamic body provide unobstructed flow path, with minimal pressure loss, operation noise and low cavitation damage
Check and seat assemblies can be easily disassembled from the valve body as integral units for minimal downtime
Optional additional accessories available, including limit switches, position indicators, V / U ports, and more
Convertible platform for vast number of applications
Optional flow indication switch or opening position sensor for transmitting real time valve status to electrical control systems
Spring loaded mechanism for fast closing – eliminates reverse flow, slam and water hammer, suitable for both vertical and horizontal installation
Downstream of each high pressure pump where reverse flow prevention is required
In installations where flow indicators are required at the check valves, e.g. pumps no-flow protection or branch flow indicators
In water systems requiring one-way zone isolation
In non regular installation sites with vertical or horizontal lines providing upward or downward flows
In pumping stations operating fix or variable speed pumps
Note: For 600 psi / 40 bar application see the BC-80N-P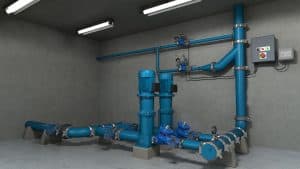 Lift Pump Station with BERMAD BC-70N-P Check Valve preventing reverse flow into the reservoir. The station also features a BC-730-P Pressure Relief Valve that maintains minimal flow if churn operation occurs. also featured is the BC-735-55-P Solenoid Operated Surge Anticipating Valve to reduce water hammer in an abrupt pump stop.