The BERMAD Model FP 730-UF pilot operated relief valve prevents overpressure, maintaining a constant preset system pressure regardless of fluctuating conditions.
It is UL-Listed (up to 350 psi) and FM-Approved in accordance with NFPA-20.
The valve offers reliable performance when installed in: Refineries, petrochemical complexes, tank farms, high-rise buildings, aviation and airports, marine and on-shore installations.
Hydraulically powered valve seal design
-Reliable drip tight sealing
-Eliminates jamming problems
Hydro-efficient body design
-Wide operating range
-Unobstructed straight through flow path
Double-chambered unitized actuator
-Easy, inline inspection ensures minimal down time
-Quick and smooth valve action
Typical Applications
Pressure relief for individual diesel fire pump
Pump station pressure-relief
Centralized thermal pressure relief
Foam recirculation; maintains required foam pressure
Zone safety relief
Typical Installations
Installation with Angle pressure relief valve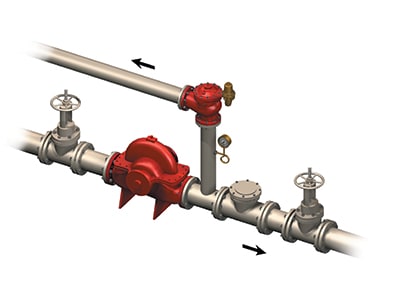 Installation with "Y" Pattern relief valve