Level Control Valve with Modulating Altitude Pilot

BC-750-82-P
Reservoir Level Control valve with Altitude Pilot is a hydraulically controlled, diaphragm actuated control valve that shuts at pre-set high reservoir level and opens in response to level drop, keeping the reservoir full regardless of fluctuating demand. BERMAD 700 series valves are hydraulic, oblique pattern, globe valves with double chamber unitized actuator, that can be disassembled from the body as a separate integral unit. The valves hydrodynamic body is designed for unobstructed flow path and provides excellent and highly effective modulation capacity for high differential pressure applications.
External installation and no use of float – simple installations and easy accessibility
High Quality Construction Materials – Reliable, resilient and long lasting operation
Robust Design – Suitable for constant, intense operation
In-Line Serviceable – Quick and easy maintenance and service
Line Pressure Driven – Independent operation, no external power needed
Unitized Actuator Assembly – Minimal downtime
V-Port Throttling Plug – Low flow stability
Adjustable Pilot – Easy field level setting and calibration
2-Way Control Loop – Immediate, accurate response to sudden system variations
High level reservoirs & water towers
"Always full" reservoir, for potable water or dual purpose firewater & potable water reservoir
Self operated with no float – easy maintenance in hard to access reservoirs.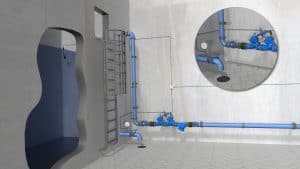 With BERMAD BC-750-82-P the water level is maintained by the use of a highly accurate pilot valve that precisely senses the water level head from a sensing point at the bottom of the reservoir and controls the main filling valve accordingly. Safeguards from overflow, an electric level control valve BC-750-6E-P wait for an electric signal from a water level sensor (featured here is an electric float).