BERMAD » Knowledge Center » Flow Control Valves
What are flow control valves?
Flow control valves are designed to maintain a constant pre-set maximum flow regardless of fluctuating demand or varying system pressure (see below graphs) , in order to protect the supply system from overconsumption.
There are different methods for applying flow control: mechanical, electronics and also hydraulics. BERMAD is offering fully automatic hydraulic flow control.
Please refer to blog Hydraulic Flow Control.
In irrigation for example flow-limiting is required at the outlets from main systems to consumers such as mainline to hydrant line, hydrant line to distribution line and more.
In Waterworks flow control is required at reservoir inlets, mixing junctions etc.
Please refer to blog on reservoirs' flow control application in India Water Supply in Karnataka, India.
Unable to control the users, designers are using flow control valves to ensure that the flow won't exceed the system's design flow. By limiting the flow, they protect the supply system from excess demand, prioritizing it over users when they attempt to consume more than the system's specifications.
Flow Control Valve Diagram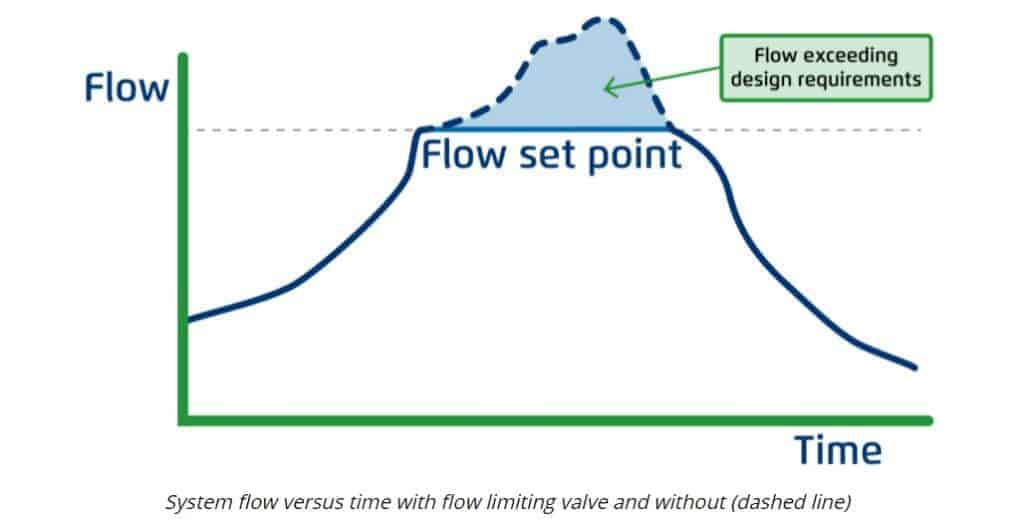 How do flow control valves work?
Hydraulic Flow control valve is equipped with flow control pilot designed to hydraulically sense the differential pressure associated with the varying flow. The flow control pilot commands the valve to throttle when the demand increases above the setting and to fully open the valve when the demand decreases below the setting.
Flow Control Valves react to increase of the parameters they control by throttling closed.
This is a "progressive" process = increase in demand results in the valve reducing the flow progressively.
The more the valve closes, the more the downstream pressure is reduced.
When demand is lower than design parameters, the valve fully opens.
Please refer to blog Flow Control Valves.
What are the common types of Flow Control Valves?
System demand can vary due to different reasons, like unequal irrigation shifts in agriculture or typical municipal consumption in Waterworks.
In these cases, pilots must be designed to continuously measure the differential pressure.
An example is using an Orifice Assy as a flow sensor and differential pressure pilot that continuously sense the actual flow in values of ΔP (connected by two sensing tubes).
Refer to BERMAD flow control valve model 770-U Product page.
For minimal headloss and easy in-filed recalibration BERMAD offers a unique paddle pilot sensor & a pilot dedicated for Irrigation system.
Refer to BERMAD flow control valve model 172-50-3W-Xt Product page.
Good to Know