Pressure Reducing Valve
FP-42T
The BERMAD model 42T is an elastomeric, line pressure driven pilot operated pressure control valve.Designed specifically for advanced fire protection systems and the latest industry standards. The 42T reduces high upstream pressure to a precise, preset, stable downstream pressure. Due to its exceptional reliability and low head loss the 42T is ideal for control of fire pump discharge. It is also well-suited to prevent over-pressure in sprinklers, hose stations, and other discharge devices. As an option the 42T can be fitted with a valve position indicator that can include a limit switch suitable for Fire & Gas monitoring systems.
Safety and reliability
Time-proven, simple, safe actuation
Single piece, rugged, elastomeric VRSD technology
Obstacle-free, uninterrupted flow path
stem-less guide with no mechanical moving parts
High performance
Straight-through flow with Minimal pressure loss
Energy efficient
Fast, smooth response to pressure fluctuations
Certified for 20/25 bar (300/365 psi)
Designed for advanced fire protection systems
Meets the requirements of the NFPA-20 standard
Face-to-face length standardized to ISO 5752, EN 558-1
Quick and easy maintenance
In-line serviceable
No mechanical moving parts
Quick cover removal without detaching control trim
 Typical Applications
Sprinkler feed systems
Fire pump discharge control
Hose station supply
Fire hydrant supply
Foam systems
Zonal pressure control
System Installation
A typical installation of the BERMAD model 42T features a pilot valve for the automatic stable and accurate reduction of water pressure from a high upstream value to a preset lower downstream value, regardless of fluctuating upstream pressure or flow.
A unique actuator design ensures quick and smooth valve action.
Installed singly, the 42T provides a standard pressure-reducing system. Installed in parallel, two 42T valves provide high flow rates, redundancy, and zero downtime for maintenance.
Installed in series, two 42T valves can provide a
two-stage, high reduction in pressure and/or added protection to a reduced-pressure zone.
To comply with the requirements outlined in the FM and UL standards, a pressure relief valve is to be installed on the downstream side of any approved or listed pressure reducing valve.
The BERMAD 43T Pressure Relief valve is ideally suited for this purpose, as shown in the installation illustrations.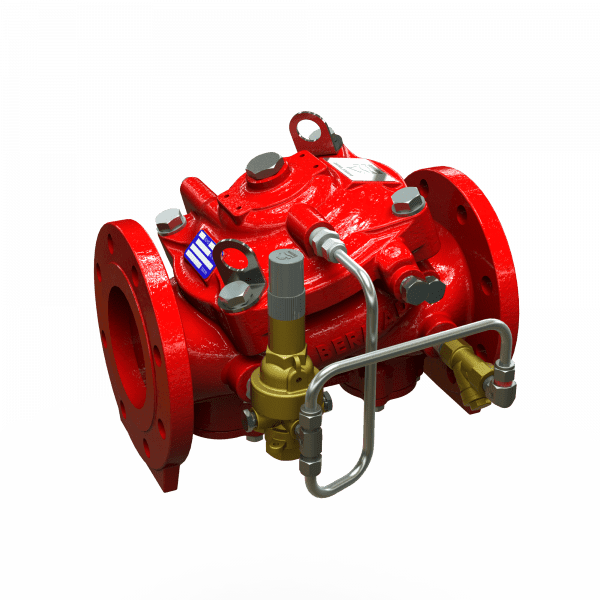 3D CAD Download