Level Control Valve with Bi-Level Electric Float

FP-450-65
-Very low supply pressure -Low noise generation -Energy cost critical systems -Systems with poor water quality The Model FP 450-65 Level Control Valve with Bi-Level Electric Float is a hydraulically operated, diaphragm actuated, control valve that controls reservoir filling in response to an electric float switch signal. The valve fully opens at a pre-set low level and closes at a pre-set high level.
-Independent operation
Bi-Level Electric Float Switch
– On/Off – non modulating
– No hydraulic sensing tubes
– Suited to various types of level sensors
– Solenoid Controlled
– Low power consumption
– Normally open / normally closed
– Single-piece fully supported rolling diaphragm
-Obstacle-free unobstructed flow path
– Suitable for poor quality water
Hydraulically Restrained Actuation
– Non-slam closing
– Quiet and smooth operation
– High flow capacity
– Low operating pressure
– Easy access to valve
– Simple level setting
– Less wear and tear
– Quick and easy maintenance
– Simple addition of factory supplied features
Major Additional Features
Closing surge prevention – 450-65-49
Hydraulic float back-up – 450-65-66
Altitude pilot back-up – 450-65-80
Relief override – 450-65-3Q
Pressure sustaining valve – 453-65
Flow control valve – 457-65-U
For further options, See relevant BERMAD publications.
Infrastructure Installation
Reservoirs vary in their characteristics – location, elevation, filling and emptying flow and pressure, surface area, etc. These various characteristics require various level control valve solutions.
The Model FP 450-65 is the ideal solution for level control in reservoirs – shallow and deep, low and high elevation, rooftop and basement, in water towers, and wherever electric power is available.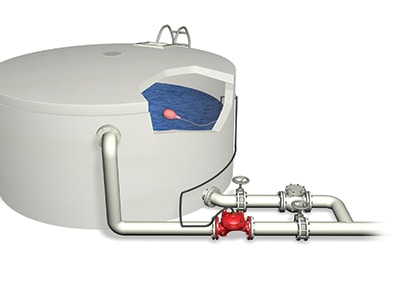 Rooftop Reservoirs
Rooftop reservoir level control is attained by electric control of the basement pumps according to reservoir level. As overflow of a rooftop reservoir can cause costly damage, additional backup protection is recommended. The Model FP 450-65 is suited to this
function. When open, it presents minimal interference, but when needed, it shuts off securely.
To ensure supply pressure to upper floor consumers or the fire protection system, install the Model FP 420 or 42T Pressure Control Valve upstream from the Model FP 450-65.