Level Control Valve with 2-Way Vertical Float

FP-450-67
"Always Full" Firewater Reservoir
 Automatic Self Operation
Suitable for systems with poor quality water
The Model FP 450-67 Level Control is a hydraulically controlled, diaphragm actuated valve for controlling the level in firewater reservoirs. The 2 way vertical float modulates the valve to keep the reservoir full or at a preset level at all times. The unobstructed flow passage, simplicity of design and robust construction makes the FP 450-67 suitable for use with firewater which is often of a poor quality.
– Independent operation
– Single-piece fully supported rolling diaphragm
– Obstacle-free unobstructed flow path
– Suited for use with low quality water
Hydraulically Restrained Actuation
– Non-slam closing
– Quiet and smooth operation
– High flow capacity
– Low operating pressure
– Easy access to valve & float
– Simple level setting
– Less wear and tear
-Quick and easy maintenance
– Simple addition of factory supplied features
Major Additional Features
– Pressure sustaining – 453-67
– Electric float backup – 450-67-65
– Flow control – 457-67-U
 Infrastructure Installation
Rooftop reservoir
Rooftop reservoir level control is attained by electric control of the basement pumps according to reservoir level.
As overflow of a rooftop reservoir can cause costly damage, hydraulic backup protection is recommended.
The Model FP 450-67 is suited to this function. When open, it presents minimal interference, but when needed, it shuts off securely.
To prioritize pressure to upper floor consumers or fire protection system, install the Model FP 420 or 42T Pressure Control Valve upstream from the Model FP 450-67.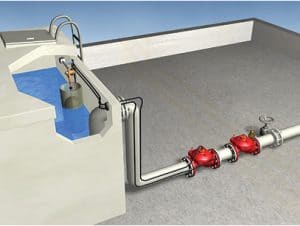 Basement Reservoirs
Basement reservoir design requires consideration of specific issues:
■ Supply cut-off is unacceptable.
■ Reservoir overflow might damage expensive equipment.
■ Noise level and duration should be limited.
■ Municipal supply pressure might be low.
The Model FP 450-67, as part of a Reservoir Fill-Up system, fulfills these requirements and more.