Level Control Valve with Altitude Pilot

BC-750-80-P
Hydraulically operated control valve that controls reservoir filling and reservoir level. The valve shuts off at a pre-set reservoir high level and fully opens in response to an approximately one meter (three feet) level drop, as sensed by the 3-Way altitude pilot mounted on the main valve. BERMAD 700 series valves are hydraulic, oblique pattern, globe valves with double chamber unitized actuator, that can be disassembled from the body as a separate integral unit. The valves hydrodynamic body is designed for unobstructed flow path and provides excellent and highly effective modulation capacity for high differential pressure applications.
High Quality Construction Materials – Reliable, resilient and long lasting operation
Robust Design – Suitable for constant, intense operation
In-Line Serviceable – Quick and easy maintenance and service
Line Pressure Driven – Independent operation, no external power needed
Unitized Actuator Assembly – Minimal downtime
Ensures uninterrupted supply for building occupants dependent on reservoir system for their water needs
Heavy duty design – suitable for intensively operating water reservoirs
Unique level sensing device; the valve performance does not affected by the difference in altitude between the valve and the reservoir
Level sensing with no moving parts, no float needed – no waves effect and corrosion, enabling easy inspection, calibration and maintenance
Level control in water reservoirs of buildings, including basement and roof-top reservoirs, pressure breaking tanks, emergency water storage, and so on
Priority and backup management of reservoirs
In reservoirs located few floors above the control valve where hydraulic float cannot be used
Where engineering considerations force the installation of narrow and tall reservoirs that therefore cannot be controlled by hydraulic float
BERMAD BC-750-80-P maintains high and low water levels with high accuracy pilot valve that senses reservoir water level head from a sensing point at the bottom of the reservoir and controls the main filling valve accordingly.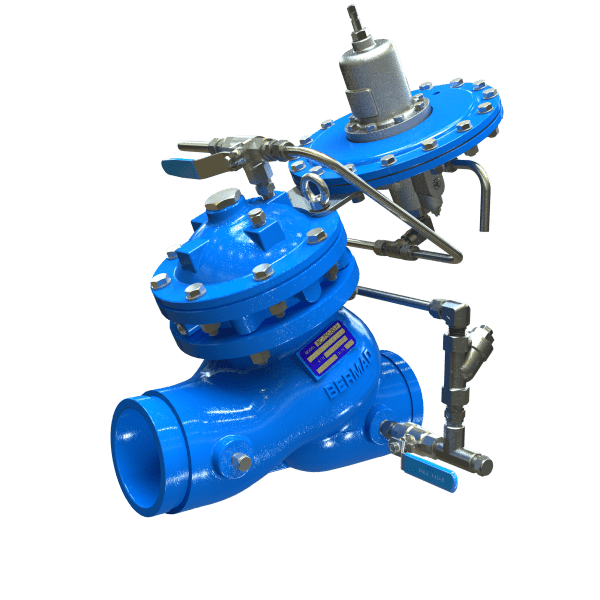 Related Products
Level Control Valve with Modulating Altitude Pilot
Level Control Valve with Bi-Level Electric Float