Hydraulically operated, diaphragm actuated solenoid controlled valve that either opens fully or shuts off in response to an electric signal. It is available in several variations including Normally Open (NO), Normally Closed (NC) or Last Position (LP).
BERMAD 700 series valves are hydraulic, oblique pattern, globe valves with double chamber unitized actuator, that can be disassembled from the body as a separate integral unit. The valves hydrodynamic body is designed for unobstructed flow path and provides excellent and highly effective modulation capacity for high differential pressure applications.
High Quality Construction Materials – Reliable, resilient and long lasting operation
Robust Design – Suitable for constant, intense operation
In-Line Serviceable – Quick and easy maintenance and service
Line Pressure Driven – Independent operation, no external power needed
Unitized Actuator Assembly – Minimal downtime
Hydrodynamic Body with Unobstructed Flow Path – Minimal noise and cavitation damage
Protected Diaphragm – Minimizes chance of damage caused by debris in the pipeline
Serves as a safety block valve in PRV stations and in tank filling systems
Routing flow to priority or emergency system branches
Saving energy by switching between direct city supply and the local pumping station (controlled by an external control regime)
Ensuring adequate refreshing of water reservoirs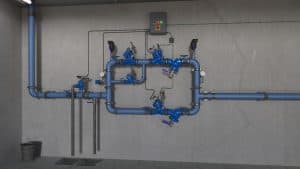 Pressure Reducing Station with Block Valve and Automatic Backup. In case of abnormal pressure rise detected by the Pressure Switch the system switches automatically between the active branch and the backup branch and an indication is sent to the BMS.